My Morning Routine
How Beauty Products (and Sleeping In) Can Be Mental Health Tools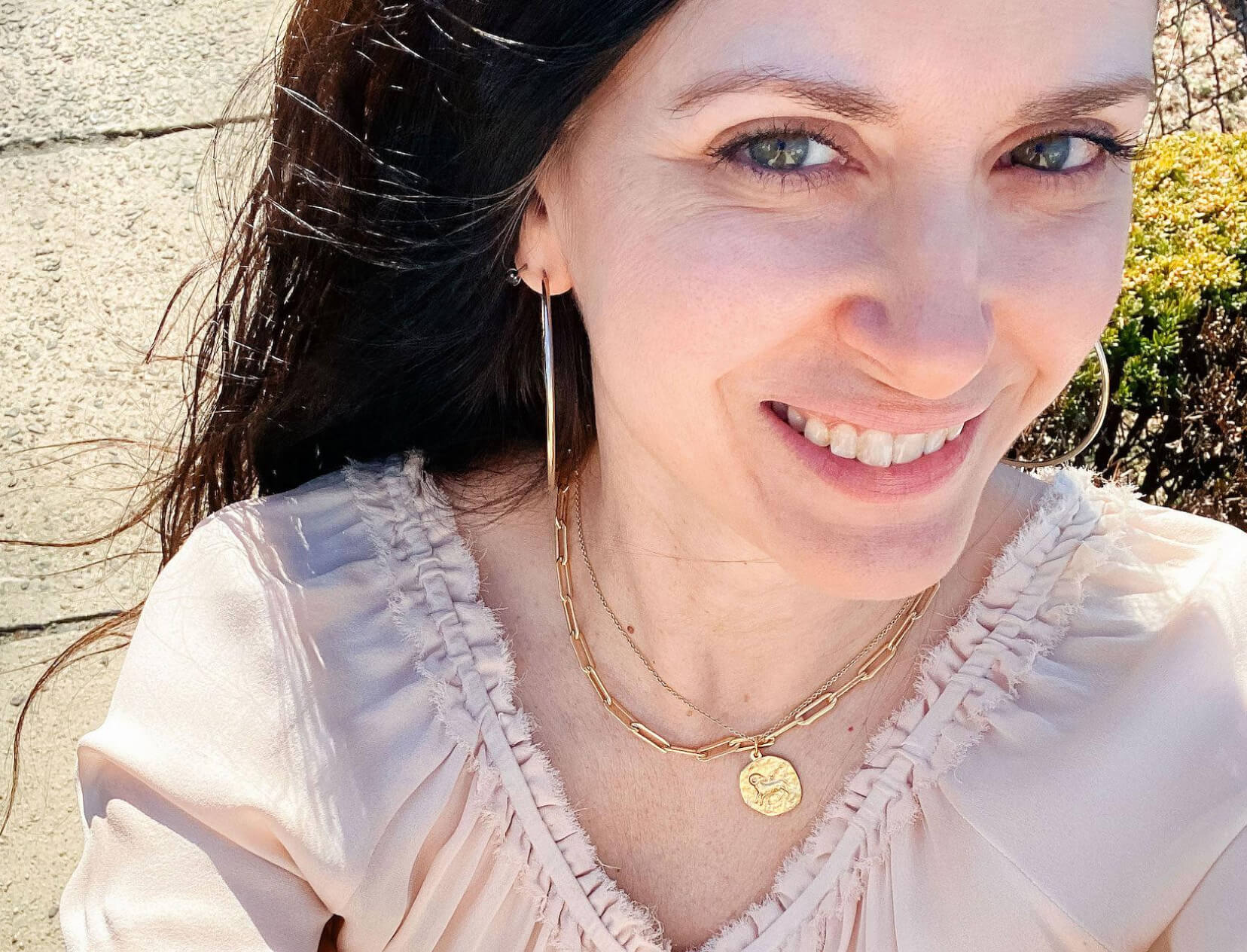 AMY KELLER LAIRD |
journalist and founder of Mental
After a big career in beauty and journalism—she was the editor in chief of Women's Health, as well as the beauty director at Allure—Amy Keller Laird is now focused on mental health, writing and talking (and TikToking) about it in a way that feels entirely fresh. Keller Laird, a mom of two boys based in Westchester, New York, first talked about her struggle with OCD in a story for Women's Health in 2016. "At that time, very few brands were talking openly about mental health," she says. "My company worried about people judging me, legal problems, blah, blah, blah—all reasons we needed to cover the topic." The story went viral, and Keller Laird ended up as a guest on the Today show.
Keller Laird continued to think about ways to energize the cultural conversation around mental health. "I noticed two very binary options in terms of mental health content: clinical sites with sterile language and sad photography (I just cannot look at one more black-and-white photo of a hand on a window with the rain outside) or stories on lifestyle sites that just scraped the surface," she says.
So she set out to create a brand specifically for women that blended legitimate mental health coverage with all things lifestyle—love, family, work, relationships, home, beauty. "That's how we experience mental health challenges in real life," she says. "You don't go on a date as one person, then have anxiety at home. You don't go to work as a super happy person, then get depressed just at night. Everything exists together."
Keller Laird's brilliant new platform, Mental (Instagram: @club_mental), is packed with stirring articles, amazing studies, and powerful ideas intended to help normalize the conversations around mental health. "Fifty percent of the population experience a mental health condition at some point in their lives," she points out. "So a mental health condition is normal."
The site reveals an entirely new take on mental health journalism: A cropped shot of a woman's glitter-swept cheek illustrating a story on dermatillomania—a skin-picking condition—looks like it was filched from the pages of an artsy editorial spread. Keller Laird approaches topics like bipolar disorder, eating disorders, depression, ADHD, anxiety, and more with a raw, conversational tone. "The content is always based on the latest studies and expert interviews," she says. And in December, she established the first-ever Best of Mental Health Awards, radically reimagining beauty and lifestyle products as mental health management tools.
She practices what she preaches every morning. "I think of skin care as energy," she says. "Texture is so important. I like to feel it working: tingling, warming, or sloughing," she says.
7 a.m.
Alarm goes off. I check my phone for a message from my boyfriend, who lives in Pennsylvania and wakes up way earlier to get his daughter to school. He always texts, "Good morning, [food name]." As in, "Good morning, garlic salt." It's sweet and always makes me laugh. A few of my recent faves: "pumpkin seed," "lobster," "my lil Reese's Piece."
Then I press snooze and go back to bed.
7:30 a.m.
I wake up my sons, Mack, 13, and Jones, 9, and make their lunches. Mack always wants hot chocolate, so we've got quite a mug collection. I have an amazing nanny, Irma, who's been with us since Mack was a baby and helps get them ready.
8 a.m.
Their dad picks them up for school. I get back in bed. I've worked corporate jobs for the past two decades, and for the first time in my life, I'm allowing myself to sleep in a couple of days during the week. Since I have the luxury of setting my own schedule right now, I've started doing what I heard experts say all the time when I was at Women's Health: listening to my body.
Rest isn't the act of doing nothing; it's the act of deliberate rejuvenation. In a short time, I've noticed I'm less anxious, less lonely, less exhausted. I don't do it every day and I end up working later some days, but just the fact that my brain knows it can sleep in is a relief.
Other mornings, I kickbox or do American karate. Sweating, even for 10 minutes, definitely helps my nerves. I have a punching bag and gloves at home, and it's such a rush nailing a combination with multiple moves.
10:45 a.m.
If it's a morning I've slept in, I get up and pour myself a small cup of Grady's Cold Brew—my ex-husband is Grady (we're friends!). It's delicious. Since it's a concentrate, I mix half Grady's with half 2 percent cow or almond milk. It doesn't need sugar because it's naturally sweetened with chicory.
Time for skin prep. I cleanse with this tingly charcoal cleanser. A few times a week, I then exfoliate with the Microderm face glow polish from goop. It tackles dry skin two ways, with manual mineral scrubbers and chemically with glycolic acid. Mama needs a double whammy as she gets older—my skin doesn't turn over as quickly as it once did. It feels invigorating, and my skin is noticeably softer afterward—which in turn makes me feel more youthful. I'm somehow readier to go, to do the thing. Funny how tiny granules can hold such power.
I'm obsessed with this moisture mask. I use it both as a daily moisturizer and sometimes as an overnight mask. It's so silky—heaven. I relied on it when my skin was flaking off from stress during a job with a horrible boss. I don't normally go for scented skin care, but the jasmine is ethereal—kind of romantic but understated and wispy. It would make a gorgeous fragrance.
The best advice I can impart from my 11 years as a beauty editor: Sunscreen is the best way to preserve skin's vitality. I wear a mineral one every day.
goop Picks
11 a.m.
Creamy makeup is my jam—it's pretty much impossible to mess up, and you can apply it with your fingers in minutes. Creams deposit a soft sheen that perks up my skin, but they don't settle into fine lines as powders sometimes can. (Side note: A 2021 study published in the International Journal of Pharmaceutical Research concluded that makeup enhances people's feelings of acceptance and respect toward themselves.)
Once I hit my 40s, blush became more important for brightening and adding a bit of definition. I smooth on this blush stick—it's so natural-looking and easy to blend.
I must have the darkest-black mascara. This one is unique in that the brush is big enough for serious volume, and the formula itself is thick enough that it pretty much doesn't smudge. It leaves my lashes looking feathery, separated, and lush. I wear it on both my upper and lower lashes. A light swipe on my bottom lashes creates a finished look; it's oddly both sophisticated and romantic, like a softer version of a '60s Twiggy eye. Years ago, in Twitter's golden days, I started a #TeamBottomLash campaign. You'd be surprised at how strongly people align with one camp or the other.
Then, my favorite trick for defining my eyes: tracing black liner along my lower inner rims. It requires none of the precision of lining your upper lashes and has a rocker-ish quality.
I'm usually good to go at that point, but I've been putting on more makeup than usual these days when I'm filming TikToks for Mental. I've become a huge fan of bronzy, metallic eye shadow. The effect is, "Oh, you've done something there—I can't tell exactly what, but it looks great." With a creamy metallic, like this one from RMS (I like the shades Halo and Strobe), I squeeze a bit onto my pinkie, then dab-swipe it over my lids, blending up and out around the crease.
For a my-lips-but-poppier effect, I like a balm that's moisturizing and lightly tinted, like Tower 28 Beauty's lip crayons. Their jumbo-ness is great.
11:30 a.m.
If I don't have a meeting, I walk to Caffè Ammi, a local coffee roaster in my town, while filming TikToks. It's about a mile each way, so I can make two or three decent Toks, then I get an oat cappuccino and a plain scone (they're brought in from Balthazar in Manhattan). Sometimes I order poached eggs and rye toast.
I stay at Ammi for a few hours, editing stories or creating social posts in Canva, then walk back and continue working from home.