The Cryptocurrency Fear and Greed Index has reached 72, the highest level in the last two years.
The last time apart from October 2023 that the Fear and Greed Index rose above 70 was two years ago. The peak was recorded on Nov. 9, 2021, when the indicator rose to 84. During that period, the value of the main cryptocurrency was actively growing, and on Nov. 10 it hit a historical high of $69,044.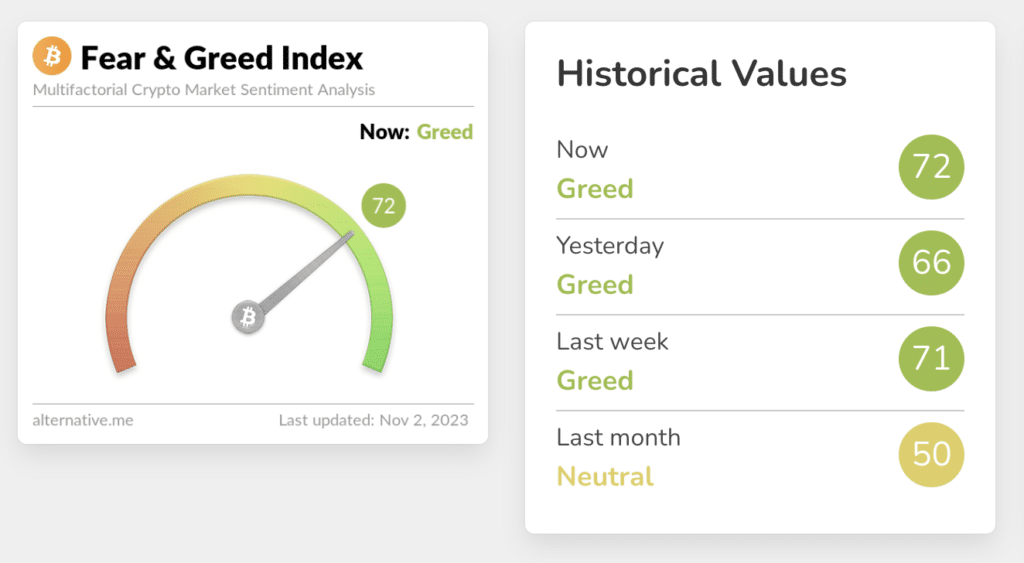 The rise in metric values comes amid a recovery in the cryptocurrency market, fueled by narratives about the prospects of launching the first Bitcoin-based exchange-traded fund in the United States. The capitalization of the latter reached $692 billion, according to CoinGecko.
The Bitcoin Dominance Index is at 51%, which is comparable to April 2021 values.
Since mid-October, the price of BTC has been showing positive dynamics. Bitcoin broke through the $30,000 barrier back on Oct. 16th. Then rumors spread online that the US Securities and Exchange Commission (SEC) had approved an application to create a spot ETF for BTC from BlackRock.
Since the beginning of the year, the first cryptocurrency has grown by around 113%. At the time of writing, the asset is trading at $35,400 (+2.9% over the last day). The sharp growth of the first cryptocurrency occurred simultaneously with the meeting of the US Federal Reserve on Nov. 1.